Today, we are thrilled to share an incredibly important series we have been working on that comes straight from our core as a female-founded and operated company.  Today we launch the Female Founder Friday series.  Cute alliterative name? Yes. Deep meaning that will introduce you to some of the fiercest women around that will inspire you, as a woman (y'all too men), to "do whatever the f*ck you want in 2018" (thanks The Wing for that gem!)? Definitely!  As we kick off our newest series we want to tell you a little bit about The Why behind the FFF's headed your way each Friday.
Each founder you will meet is creating something innovative, something special, something that is changing the game in their industry.  They are doing it in spite of the fact that a recent study showed that only 10% of venture dollars and 16% of seed/angel funds globally between 2012 and Q3 2017 went to startups with at least one female founder. This egregious statistic is largely based on the fact that only 8 percent of the top 100 venture funds have a woman partner. Read more from Techcrunch here.  These facts, along with the widely unsafe environment we live in as women today, discourage women from starting businesses, raising money and going after their soul fulfilling moonshot.  As a recovered Wall Streeter, an investor and a female founder I could not be more excited to take some time share the stories of the women who inspire me every damn day.  We hope you love meeting them as much as we love knowing them.  This is sure to be a must-read each week and we can't wait to hear what a-ha moments you have from reading about their journeys.  Women uplifting women. Collaboration over competition. It is the only way.
So, let's kick it off with an interview with my dear friend and power house Leanne Shear of UPLIFT STUDIOS!  Read on to hear what Leanne has to say about the ups and downs of being a female founder and out who she finds inspiring AF right now.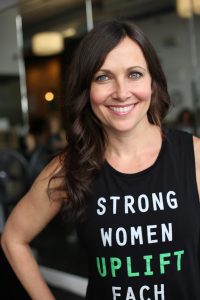 Suzie Baleson: What inspired you to create Uplift and add wellth to the world?
Leanne Shear: I've always found that women banding together (socially, athletically, professionally, etc) is a POWERFUL
thing. So we created Uplift as the first women-only fitness studio in NYC, with the idea that fitness was a means to bring women to the table in an accessible way, and now,
under my leadership, it's become a true destination for all manner of female empowerment: women come to us for our awesome group classes and personal training, but also for Happy Hour, day trips, Career workshops,  and our "Strong Women Uplift Each other" events, where women convene in our safe space and share about topics otherwise-difficult-to-discuss, such as mental health issues, miscarriage/infertility, abortion, sexual harassment in the workplace, etc. All of what we do in concert seeks to make a woman strong not only physically, but mentally and emotionally, too. Honestly, all of the women that come in our doors every day are TRULY what inspires me!

SB: What keeps you centered throughout the entrepreneurial journey? Are there specific actions that you take every day to keep your personal wellness top of mind while running a thriving business?
LS: I think this is a great question, precisely because you didn't use the word "balance," which I think is b.s.: yet another way for society (read: the patriarchy) to disempower women, making them feel inadequate for being unable to always achieve this (in my view unattainable) ideal. It's coming to terms with the fact that life is always going to be a little crazy, a little cluttered, and sometimes off-kilter. I actually embrace change, the excitement—and the lack of equilibrium—of this life!
Finding my center sometimes is important, though, and fundamental to that for me is sleep–I require 8-9 hours a night to function at my highest level so most nights, I am in bed at 8pm reading like a true nerd! That doesn't mean I don't love to wind down and drink some wine with my girlfriends (another important piece to feeling stable on the rocky road of entrepreneurship is just plain having fun)–I just usually push for a 5 p.m. happy hour or a fun brunch on the weekend, rather than late dinners or nights out.
SB: Being an empowered female leader today is more important than ever.  What is your favorite part about helping shift culture around female leadership?  
LS: I have come to realize that resilience is the most important quality a person can possess, in business, but in life. And if there is one thing I know firsthand from working with and on behalf of women all day, every day, women are NOTHING if not resilient.
The next step for women, which I see emerging more and more in this zeitgeist, is true strength. We're no longer just survivors or collaborators, we are actually demanding and taking power and ascending the ranks in government, corporations, and society at large. Uplift is one microcosmic breeding ground for this type of female empowerment. Our finger is literally on the pulse of a broader female society, and I am very, very proud of that!
SB: Who is another Female founder that inspires you? Why is she inspirational AF?
LS: Oh, my, there are almost too many to enumerate–and that's another thing I've noticed: there is currently an absolutely incredible proliferation of the most inspiring female founders. They (can I say WE?!) are dominating, in particular, the wellness, health, and lifestyle spaces–and so far beyond that. As for specific women, I have been inspired for a long time by women like Sara Blakely, Sallie Krawcheck, plus all of the women and the organizations led by women who are doing the FUNDING of women in business.
SB: What's next for both you and UPLIFT? Tell us what we should be on the lookout for!
LS: From day one, I have always seen Uplift as being so much more than a simple fitness studio, and I have continued to evolve it into something much bigger–a female society, providing support for all women in any circumstance. I have big plans for continuing to build an empire of empowerment, and I think thinking big in and of itself is powerful: I have never been one to be held back by "realistic expectations," for better or for worse!
I only recently came to the conclusion (well, my Mom urged me to come to this conclusion because I wasn't quite seeing it myself!) that I could both do well (ie, make money) and do good in the world; In fact, I;m learning more and more that another facet of the strength of women comes with our economic might, and I am embracing that.  I will be rolling out a big growth strategy early next year that brings all of our Uplift values together and allows us to both scale and help that many more women, outside the confines of a brick and mortar studio space.
Be sure to learn more about Leanne Shear and UPLIFT STUDIOS by visiting their website here.